7th Beijing Biennale-Exploring Culture blend in art now and past
Columbus discovered the New World; Zhenghe sailed to the western; Marco Polo traveled to China; Xuanzang went on a pilgrimage for buddhist; a western maid in silk dress with a china cup of Chinese tea… East meets west; Chinese civilization meets world civilizations. The processing of culture blend has been lasting for thousands of years and the contributions from china to the world have never stopped. From the date that China welcomed all envoys in Tang Dynasty to present that China sent out Confucius Institute, no matter it was Nicolae Spataru Milescu, a Moldavian writer and traveler who had been described as Moldavian version of Marco Polo, (In 1675, he was named ambassador of the Russian Empire to Beijing and wrote Travels through Siberia to the Chinese borders and Travel notes and Description of China to introduce Chinese culture to Russia and east Europe such as another Marco Polo) or the popularity of Chinese elements among western culture society, or the vivid stories happened during the cooperation of one belt one road, the internal exchanges between east and west culture had always expanding.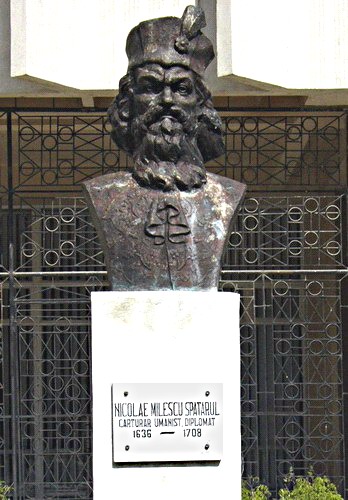 In 1675, Nicolae Spataru Milescu was named ambassador of the Russian Empire to Beijing and wrote books such as Travels through Siberia to the Chinese borders, Travel notes and Description of China, etc..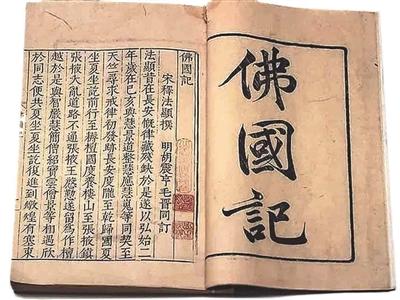 From 399 B.C., Faxian travelled by foot from China to India, visiting many sacred Buddhist sites in what are now Xinjiang, Pakistan, India, Nepal, Bangladesh and Sri Lanka to acquire Buddhist texts for 14 years. His journey is described in his important travelogue, A Record of Buddhist Kingdoms.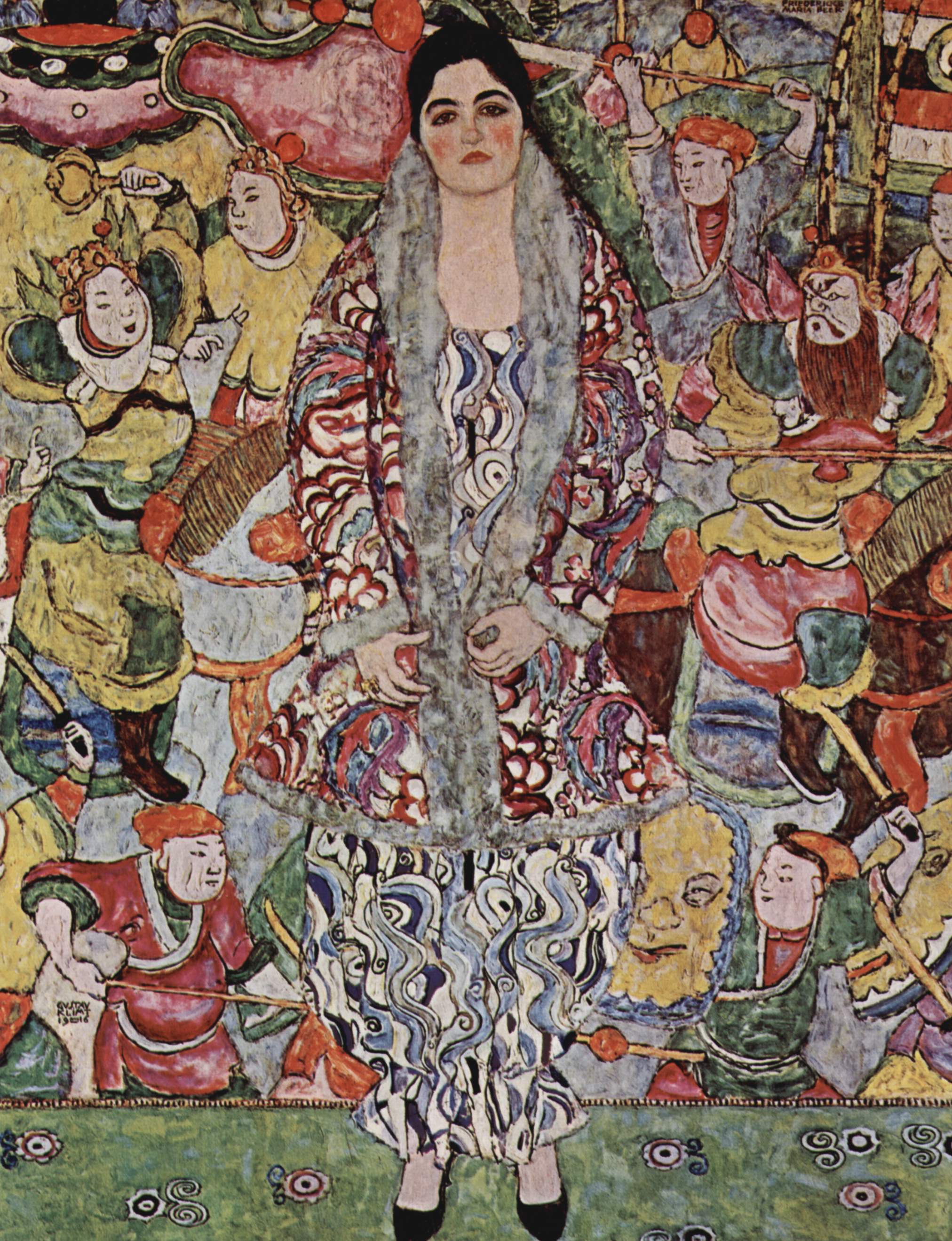 Austrian artist Gustav Klimt used Eastern elements in his painting

In the painting from Italian artist Gentile Bellini, there is a man from Venice wearing Islamic clothing

The history of culture blend is long. In an ancient mosque in Uzbekistan, there is a sign written in ancient character, if you want to learn science, please visit Qin Dynasty. It could be imagined, that dating back to Qin Dynasty, Chinese culture had already dedicated to the improvement and development of human civilization. Thus, in a broad sense, the Silk Road already existed by that time. The contents in culture blend are various and many, from fashion, food, architecture, art, music, dance, sports, technology, and literature to religions. And all these topics are potentials waiting for artist who apply for Beijing biennale to browse and study.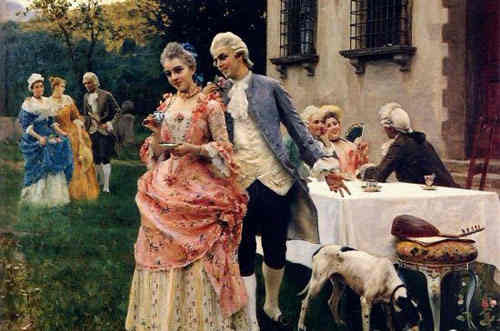 In a European painting, maids in gorgeous palace dress hold Chinese ceramics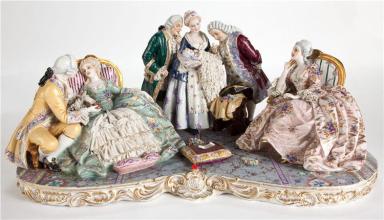 Chinese ceramics in western theme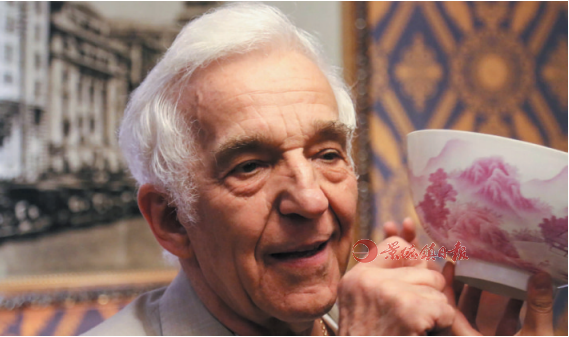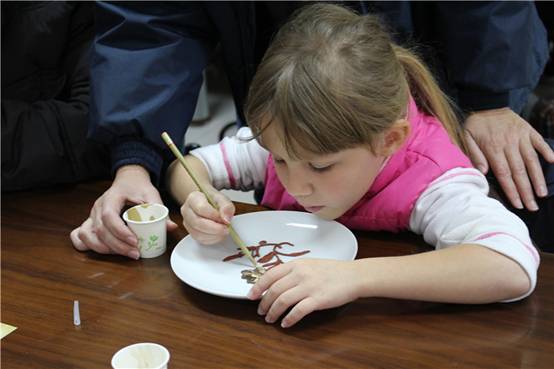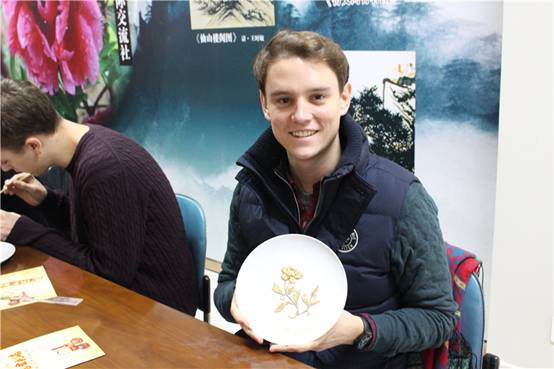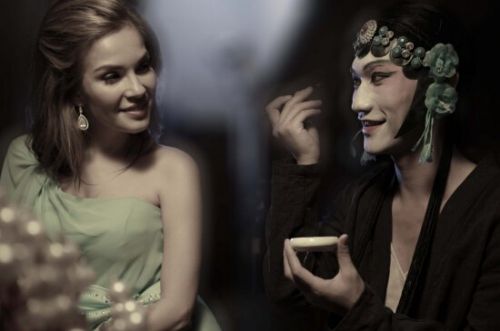 Russian singer Ksenona and Chinese Artists Tian Qi are discussing in pleasure

Famous Kabuki actor Bandō Tamasaburō V and Chinese Kunqu actor are togather playing Peony Pavilion, the famous Chinese traditional Kunqu opera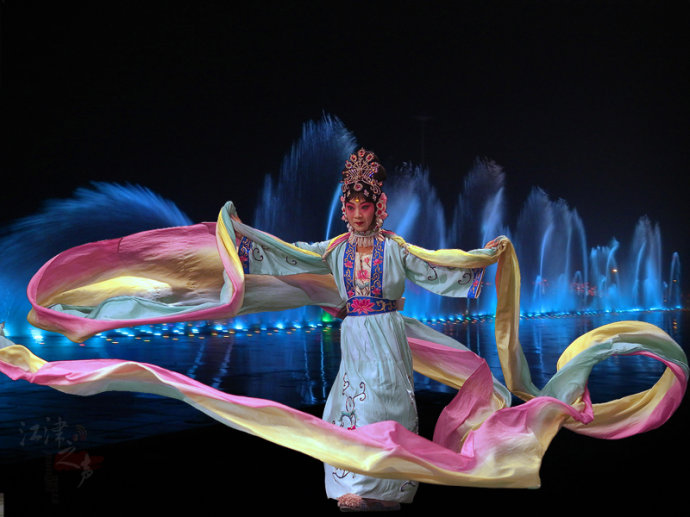 the culture blend in One belt and one road is just as colorful as the ribbon in opera actress' hand
Not only from the demand of current Beijing International Art Biennale but also from the point of view in art field worldwide, the art projects indicate the world culture blend are needed now and in the future. In other words, there are plenty available scenarios waiting for artist to research and create. In order to achieve the wonderful, vivid and comprehensive exhibition in next September, we wish artist could exceed their geographic limitation, think worldwide and focus on the theme about culture blend, the influences for Chinese culture to world civilizations and vice versa, creating the relatively realism art pieces about the culture blend in contemporary art field and the history of culture interaction.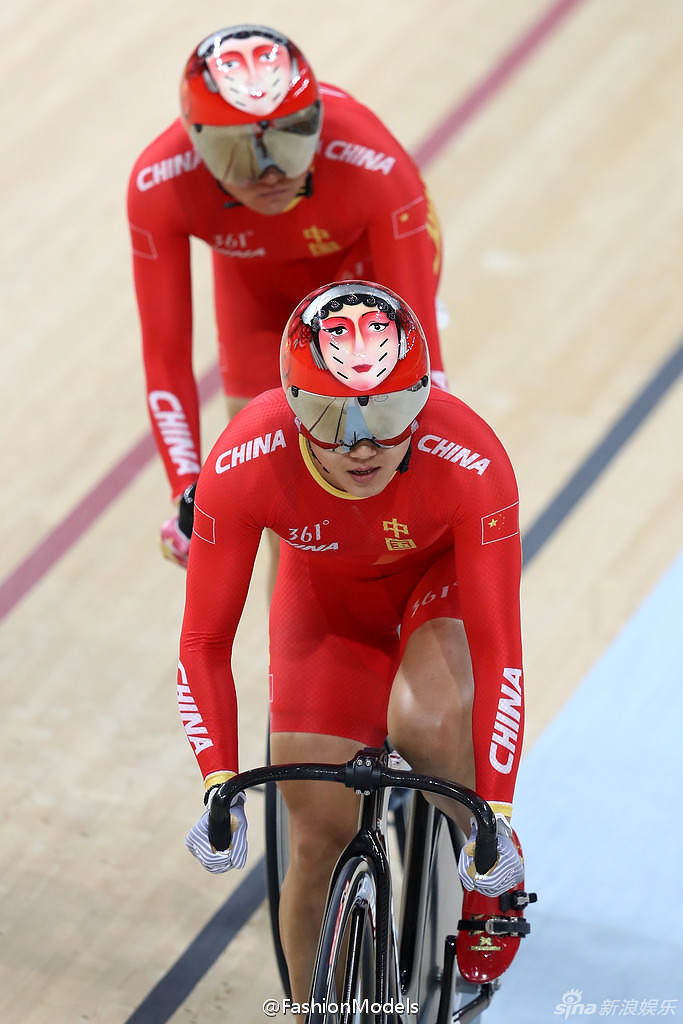 The costumized helmet in facial makeup of Beijing Opera shows in Rio Olympic Track Cycling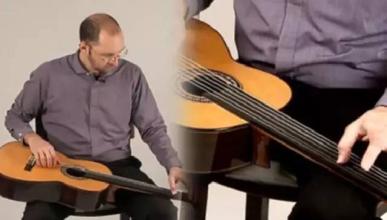 Fernando Perez plays Guqin song Chai tou feng by lap steel guitar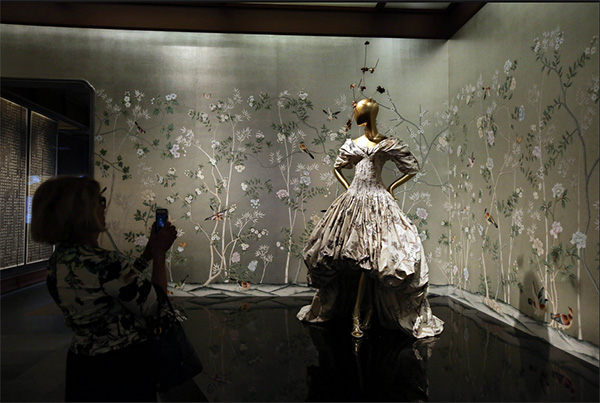 gown from Alexander McQueen with wall paper in Song dynasty Bird-and-flower painting style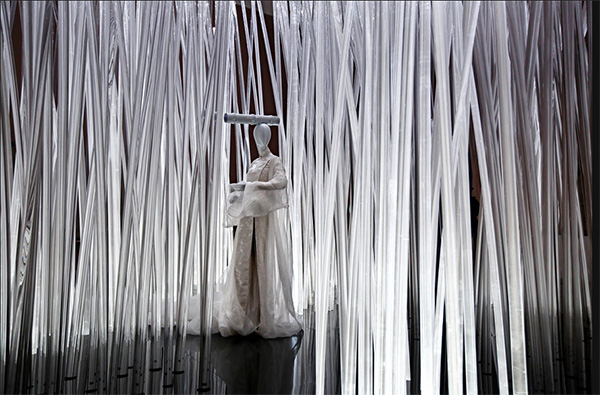 the bamboo forest atmosphere created by Jean Paul Gaultier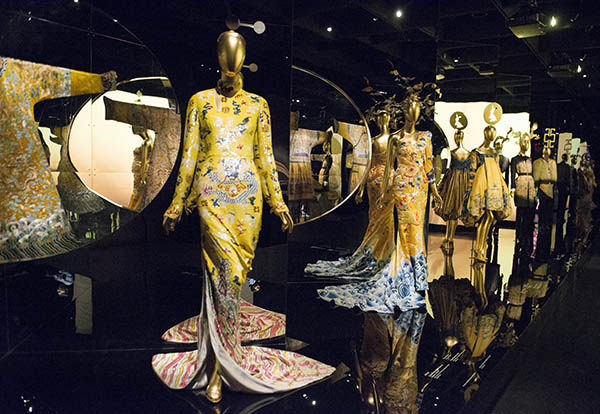 cheongsam in traditional dragon pattern by Tom Ford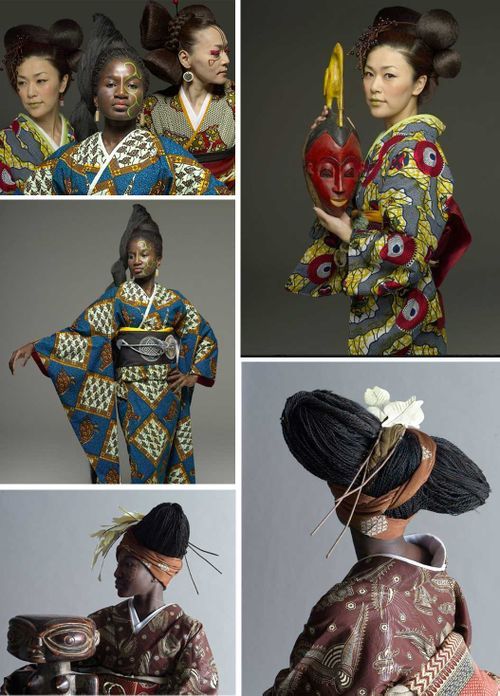 kimono in African pattern from Japanese designer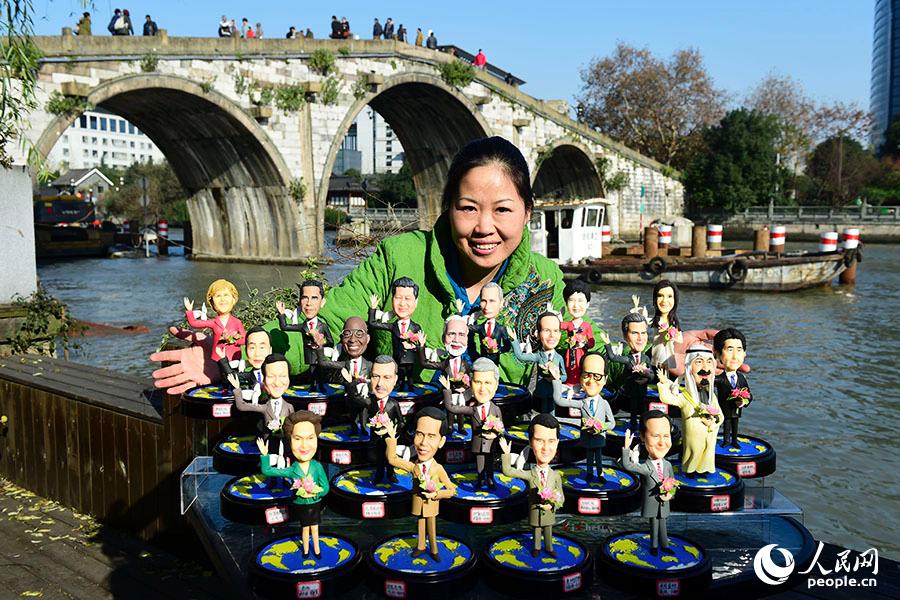 Wu Xiaoli's G20 leaders in traditional Chinese kneading ceramics