Salute to the Labouring People!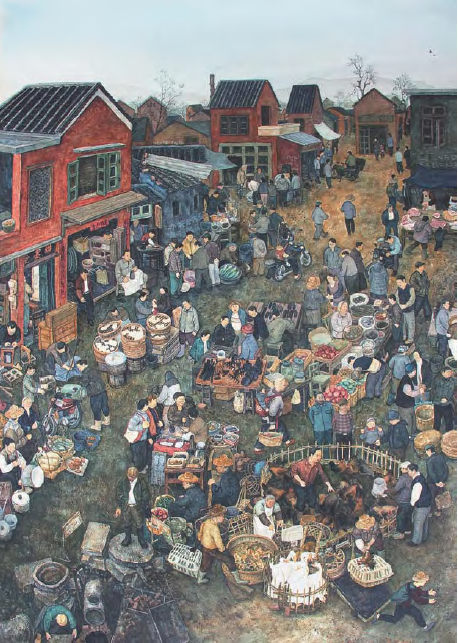 苏军权(中国)Su Junquan(China)
日出而作,日入而息 / 2014 / 水彩 / 110厘米×80厘米
Get up at Sunrise, and Rest at Sunset / 2014 / watercolor / 110cm×80cm
2015第六届北京双年展作品
Works of the 6th Beijing Biennale, 2015
"五一国际劳动节"(International Workers' Day或者May Day),是世界上80多个国家的国际性节日。定在每年的五月一日。它是全世界劳动人民共同拥有的节日。
The International Workers' Day(or May Day) established on May 1st is a worldwide festival of more than 80 countries. It is a common festival of the labouring people all over the world.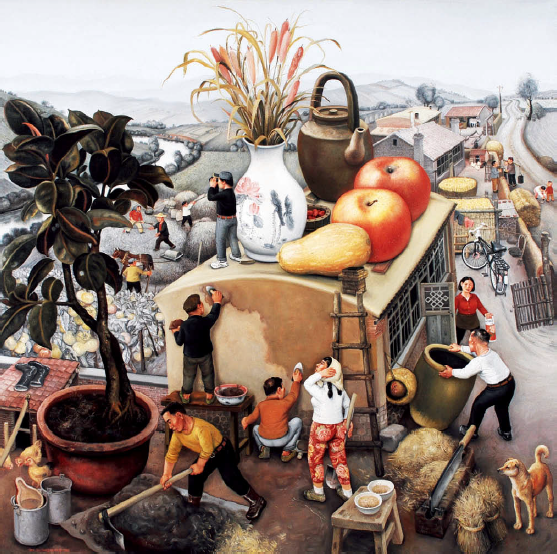 陈树中(中国)Chen Shuzhong(China)
野草滩——房前屋后 / 油画 / 190厘米×190厘米
Weed Beach—Around the House / oil painting / 190cm×190cm
2010第四届北京双年展作品
Works of the 4th Beijing Biennale, 2010

秦鲲皓(中国)Qin Kunhao(China)
收获之二 / 2011 / 布面油画 / 150厘米×200厘米
Harvest II / 2011 / oil on canvas / 150cm×200cm
2012第五届北京双年展作品
Works of the 5th Beijing Biennale, 2012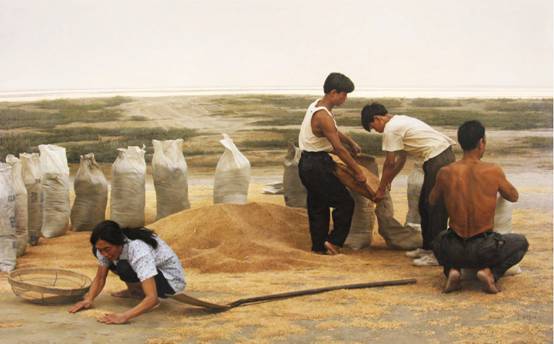 王宏剑(中国)Wang Hongjian(China)
黄河花园口 / 2007 / 布面油画 / 160厘米×260厘米
The Yellow River Huayuankou / 2007 / oil on canvas / 160cm×260cm
2012第五届北京双年展作品
Works of the 5th Beijing Biennale, 2012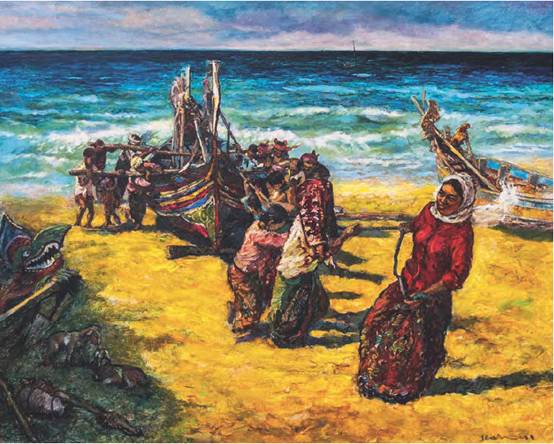 许锡勇((新加坡)Koeh Sia Yong(Singapore)
东海渔歌 / 1991 / 油画 / 120厘米×150厘米
Fisherman's Song of the Eastern Coast / 1991 / oil painting / 120cm×150cm
2015第六届北京双年展作品
Works of the 6th Beijing Biennale, 2015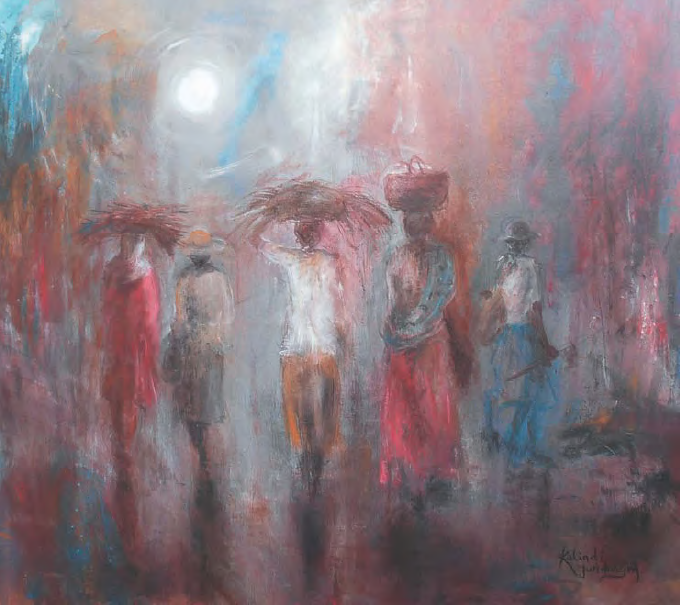 荣都兴·卡林迪(毛里求斯)Jundoosing Kalindi(Mauritius)
黄昏 / 2014 / 布面丙烯 / 120厘米×180厘米
The Dusk / 2014 / acrylic on canvas / 120cm×180cm
2015第六届北京双年展作品
Works of the 6th Beijing Biennale, 2015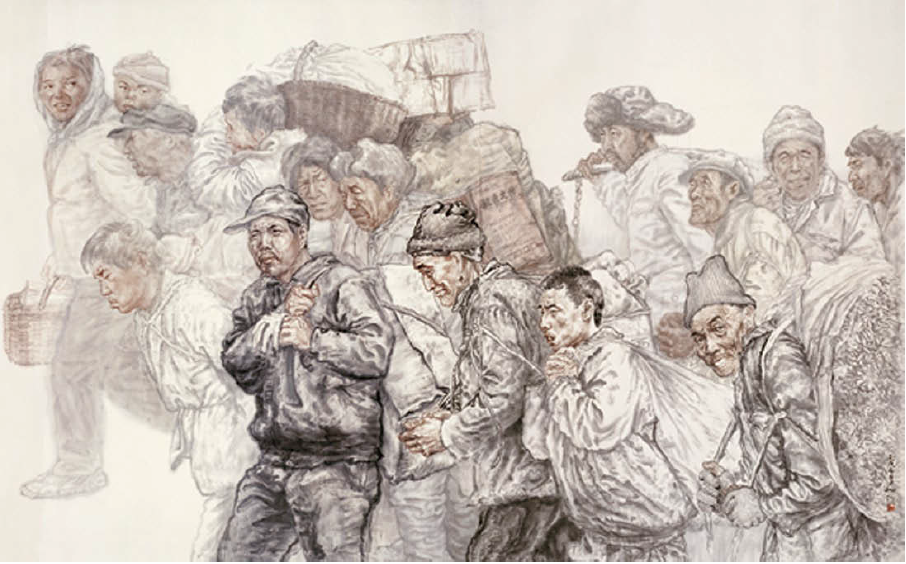 李翔(中国)Li Xiang(China)
背山人 / 2006 / 中国画 / 190厘米×350厘米
Peasants in the Bei Mountains / 2006 / traditional Chinese painting / 190cm×350cm
2008第三届北京双年展作品
Works of the 3rd Beijing Biennale, 2008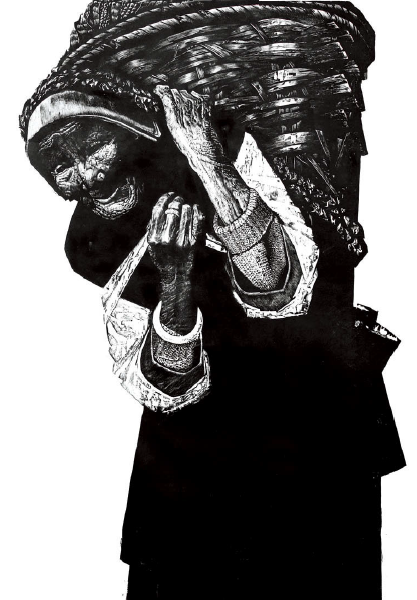 代大权(中国)Dai Daquan(China)
凉山老妪 / 2008 / 版画 / 200厘米×120厘米
Grandma of Liang Mountain / 2008 / Print / 200cm×120cm
2010第四届北京双年展作品
Works of the 4th Beijing Biennale, 2010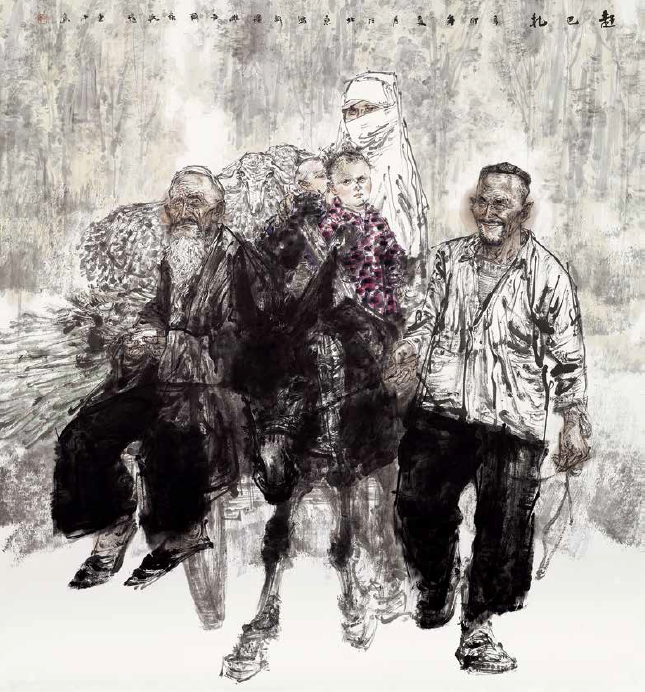 任惠中(中国)Ren Huizhong(China)
赶巴扎 / 2011 / 中国画?纸本彩墨 / 190厘米×180厘米
Returning from the Bazaar / 2011 / ink and color on paper / 190cm×180cm
2017第七届北京双年展作品
Works of the 7th Beijing Biennale, 2017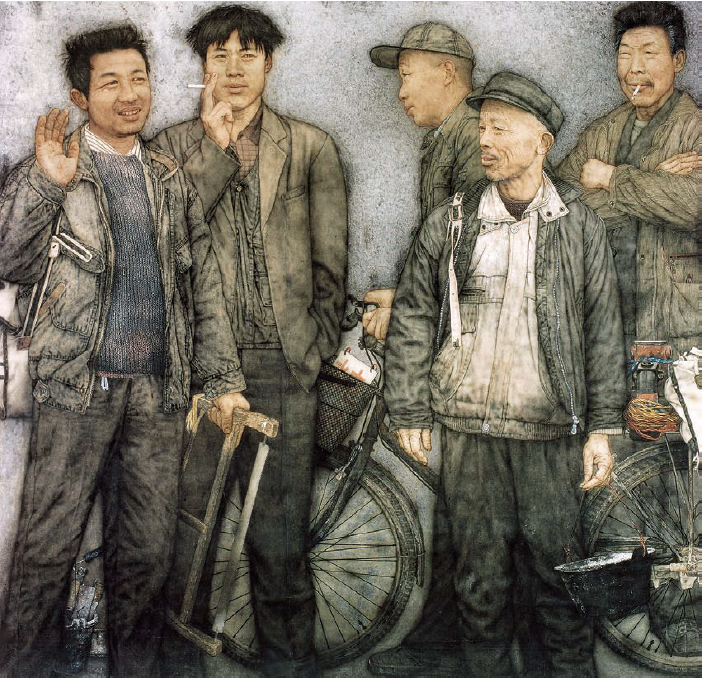 李传真(中国)Li Chuanzhen(China)
民工图 / 2006 / 中国画 / 200厘米×190厘米
Farmer Laborers / 2006 / traditional Chinese painting / 200cm×190cm
2008第三届北京双年展作品
Works of the 3rd Beijing Biennale, 2008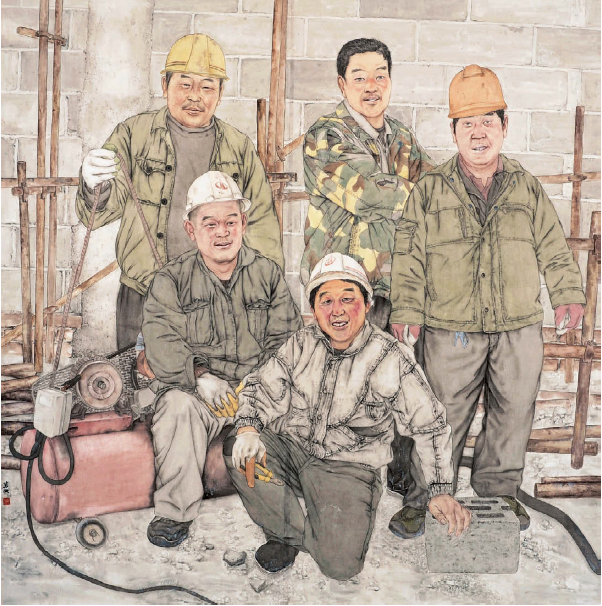 万征(中国)Wan Zheng(China)
建设美好家园 / 2011 / 中国画 / 180厘米×180厘米
Building the Beautiful Homeland / 2011 / Chinese painting / 180cm×180cm
2012第五届北京双年展作品
Works of the 5th Beijing Biennale, 2012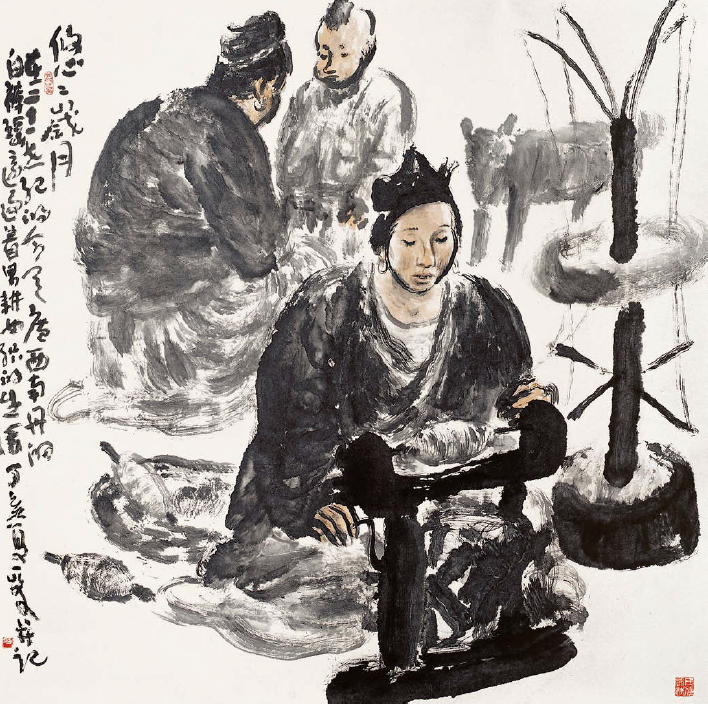 陈一峰(中国)Chen Yifeng(China)
悠悠岁月 / 2007 / 中国画 / 180厘米×180厘米
Leisurely Times / 2007 / traditional Chinese painting / 180cm×180cm
2008第三届北京双年展作品
Works of the 3rd Beijing Biennale, 2008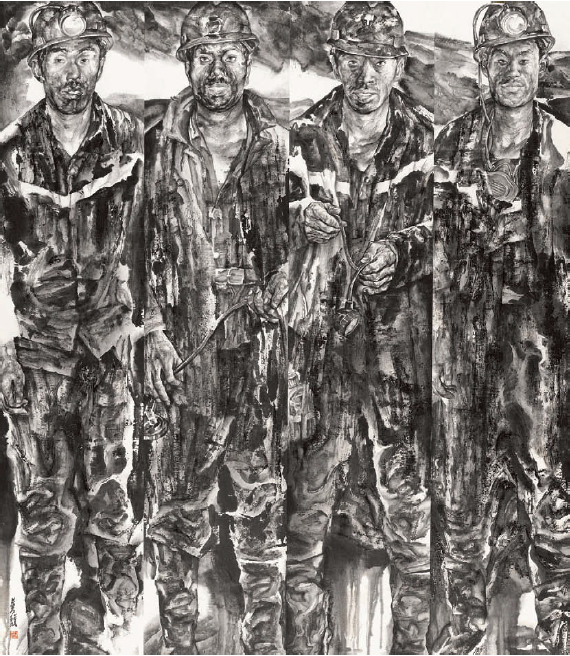 黄骏(中国)Huang Jun(China)
我的矿工朋友 / 2009 / 中国画 / 244厘米×214厘米
My Mineworker Friend / 2009 / Chinese painting / 244cm×214cm
2012第五届北京双年展作品
Works of the 5th Beijing Biennale, 2012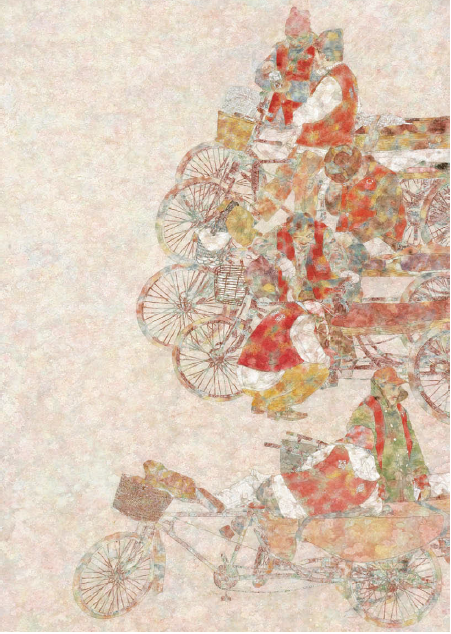 李宜兰(中国)Li Yilan(China)
红马甲4 / 2009 / 中国画 / 200厘米×170厘米
Red Waistcoat IV / 2009 / traditional Chinese painting / 200cm×170cm
2010第四届北京双年展作品
Works of the 4th Beijing Biennale, 2010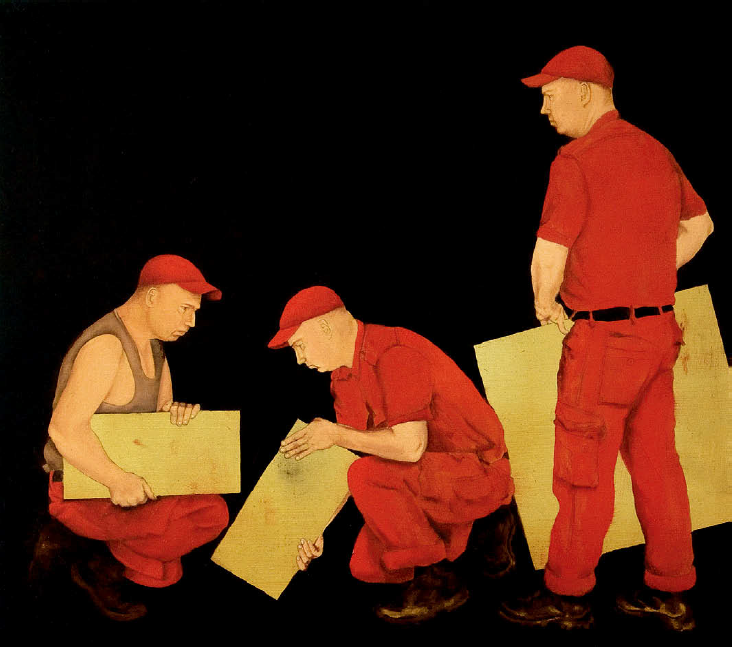 亨克·奥利耶弗(荷兰)Henk Olijve(Netherlands)
无题2 / 2009 / 板上油画 / 80厘米×90厘米
Untitled II / 2009 / oil on wood / 80cm×90cm
2010第四届北京双年展作品
Works of the 4th Beijing Biennale, 2010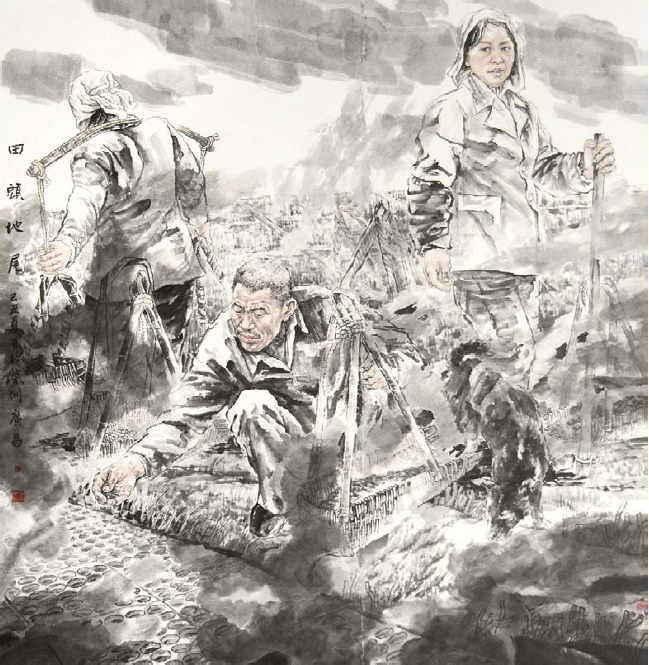 陈广昌(中国)Chen Guangchang(China)
田头地尾 / 2009 / 中国画 / 145厘米×145厘米
Working on the Farm / 2009 / Chinese painting / 145cm×145cm
2012第五届北京双年展作品
Works of the 5th Beijing Biennale, 2012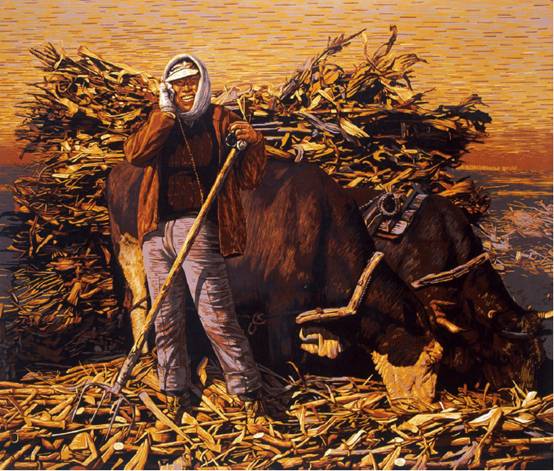 王惠亮(中国)Wang Huiliang(China)
收获幸福 / 2009 / 版画 / 80厘米×100厘米
Harvesting Happiness / 2009 / print / 80cm×100cm
2012第五届北京双年展作品
Works of the 5th Beijing Biennale, 2012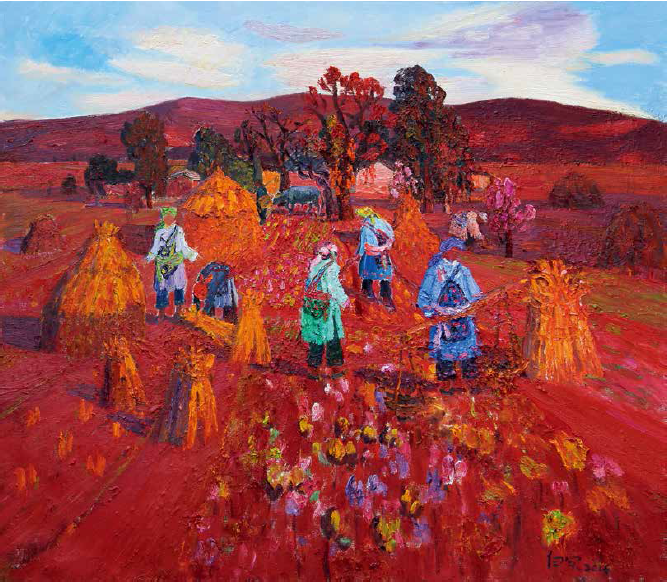 白实(中国)Bai Shi(China)
红土地系列三 / 2015 / 布面油画 / 150厘米×170厘米
Red Land Series 3 / 2015 / oil on canvas / 150cm×170cm
2017第七届北京双年展作品
Works of the 7th Beijing Biennale, 2017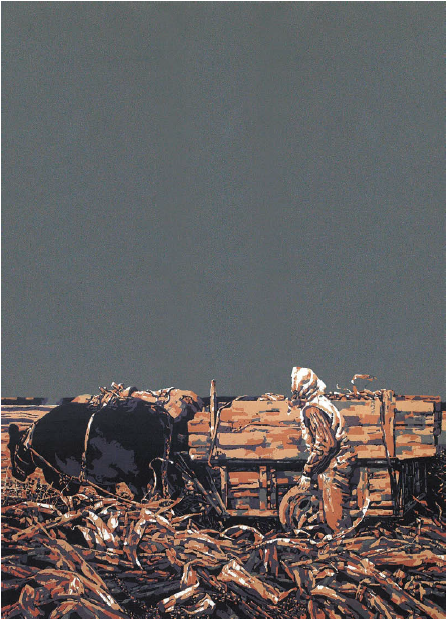 王僖山(中国)Wang Xishan(China)
一年到头系列之二 / 2007 / 套色木刻 / 110厘米×85厘米
All the Year Round II / 2007 / print / 110cm×85cm
2008第三届北京双年展作品
Works of the 3rd Beijing Biennale, 2008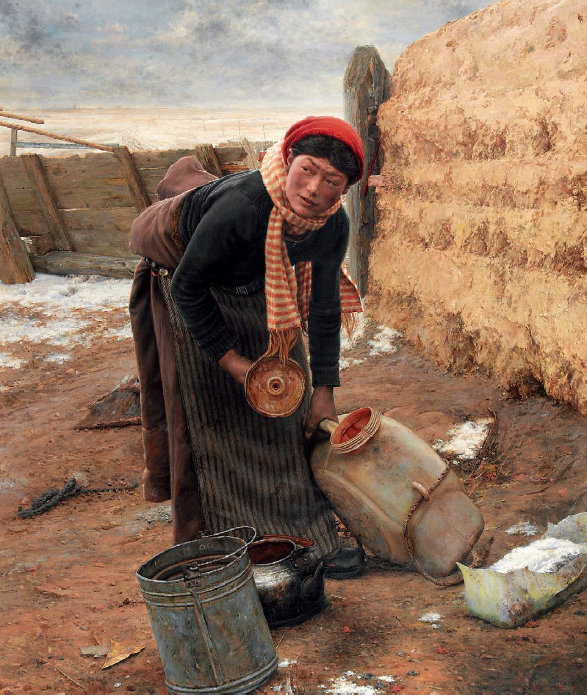 于明(中国)Yu Ming(China)
远方来客 / 2011 / 布面油画 / 120厘米×100厘米
Guests from afar / 2011 / oil on canvas / 120cm×100cm
2012第五届北京双年展作品
Works of the 5th Beijing Biennale, 2012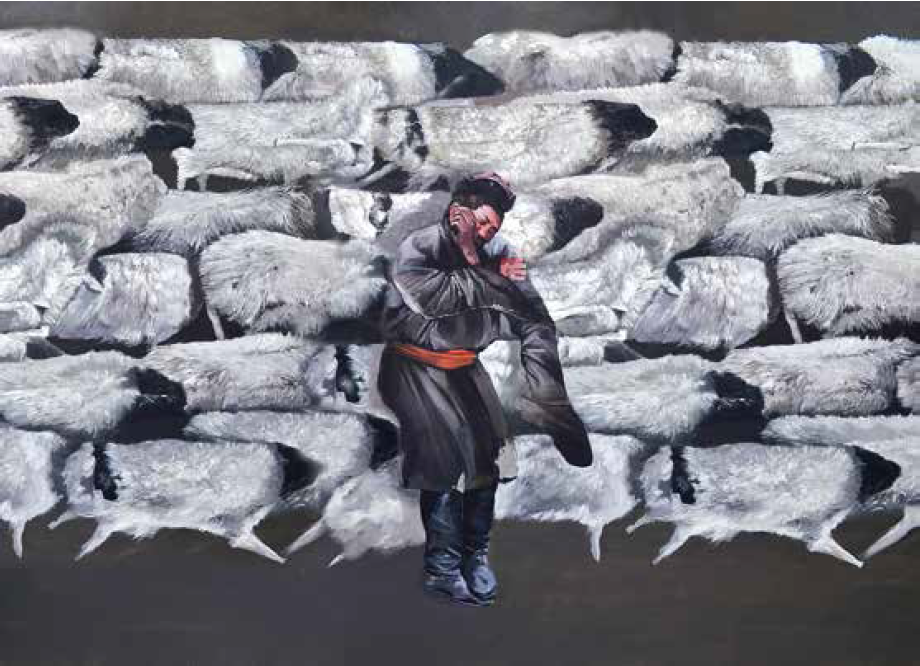 拉布哈道尔吉·恩和巴图(蒙古国)Lkhagvadorj Enkhbat(Mongolia)
牧羊人 / 2016 / 布面油画 / 205厘米×275厘米
Sheepman / 2016 / oil on canvas / 205cm×275cm
2017第七届北京双年展作品
Works of the 7th Beijing Biennale, 2017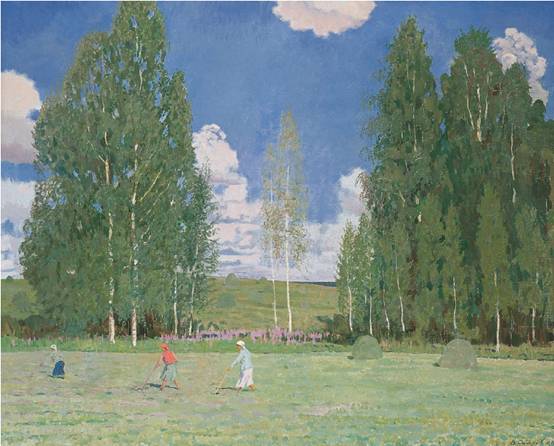 瓦尔内提·斯多罗瓦(俄罗斯)Valentin Sidorov(Russia)
割晒牧草 / 2004 / 布面油画 / 120厘米×150厘米
The time of Haymaking / 2004 / oil on canvas / 120cm×150cm
2005第二届北京双年展作品
Works of the 2nd Beijing Biennale, 2005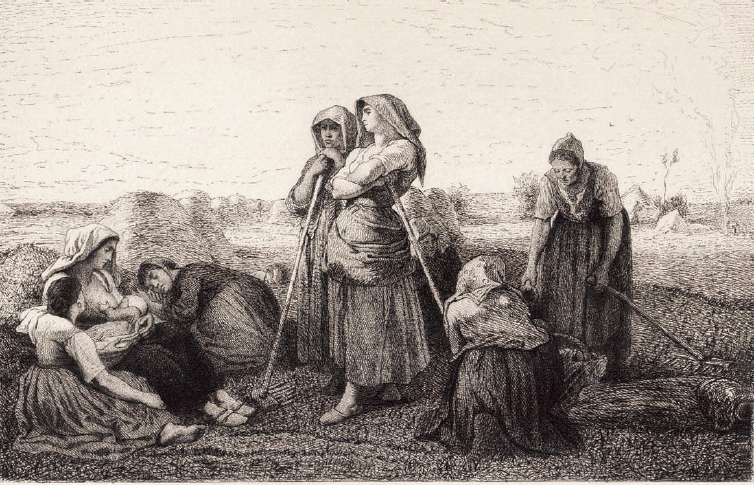 利奥波德·弗拉芒(法国)Leopold Flameng(France)
一日之终(布列塔尼人) / 蚀刻版画 / 14.5厘米×22厘米
La fin de la journée(d' après Breton) / eau-forte / 14.5cm×22cm
2005第二届北京双年展作品
Works of the 2nd Beijing Biennale, 2005


田世信(中国) Tian Shixin(China)
山音系列 / 2001 / 仿青铜 / 55厘米×260厘米×65厘米
Sounds of Mountain Series / 2001 / pseudo bronze / 55cm×260cm×65cm
2003首届北京双年展作品
Works of the 1st Beijing Biennale, 2003


王雅平(中国)Wang Yaping(China)
大柴院儿 / 2004—2006 / 中国画 / 200厘米×500厘米
Countryside Yard / 2004—2006 / traditional Chinese painting / 200cm×500cm
2010第四届北京双年展作品
Works of the 4th Beijing Biennale, 2010