宋修民(中国)Song Xiumin(China)
盛开的花朵 / 2004 / 年画 / 200厘米×170厘米
Blooming Flowers / 2004 / pictures for Spring Festival / 200cm×170cm
2005第二届北京双年展作品
Works of the 2nd Beijing Biennale, 2005
Since 2003 when I first joined the planning and preparation team for the 1st Beijing International Art Biennale, I have witnessed for the last fifteen years the successful organization of the Biennale in person, and also, the complete process of its growing.
Today we are excited to see the latest excellent works by artists from more than one hundred countries exhibited on this international art platform which was a result of fifteen years' hard work of Chinese artists. The Beijing Biennale has become a renowned cultural brand in the new period of China with increasing influence on the international art arena. The planning and operating of the Biennale has from its very beginning adhered to the country's development concepts and cultural orientation, and with such distinctive Chinese characteristics and zeitgeist it has stood remarkably in the Parthenon of world arts.
"The Silk Road and World Civilizations", the theme of the 7th Beijing Biennale, is a wise choice of the curatorial committee, which on the one hand, accords with the Belt and Road Initiative hence is of realistic and long-term significance, and covers a wide range of contents on the other hand, including history and reality, nature and humanity…, which has built a vast space for artists to carry out artistic creation and spurred their resonance and passion. The efficient management of the curatorial committee, and especially, the involvement of cultural institutions of various countries along with their support, is a guarantee for the smooth organization of the Biennale. The Biennale deepens the mutual understanding and friendship between the Chinese people and people from countries along the Belt and Road, and makes a solid cultural foundation for economic cooperation and development. In turn, the fine works by worldwide artists are also fruits generated by the Belt and Road Initiative.
During the evaluation process, we found that quite a few Chinese young artists created wonderful works full of vigor which were neck to neck with works at the National Exhibition of Fine Arts. It is obvious that the Beijing Biennale has ascended to one of the top platforms in China to promote contemporary Chinese artistic creation. I hope that there will be more excellent Chinese artists presenting their talents and works at the Beijing Biennale and from here reaching out to the world.
For any artistic behaviors, only by getting immersed into the age can they have eternal value. Supported and guided by the national strategy of cultural development, China Artists Association, going with the trend while complying with the law of arts, enables the Beijing Biennale after the establishment of the National Exhibition. This is a cause that will drive forward the development of China's art scene and benefit generations to come. I'm lucky to be part of it. And what I have gained is far more than what I gave.

Dong Xiaoming
Council Member of China Artists Association
Curatorial Team Member of Beijing Biennale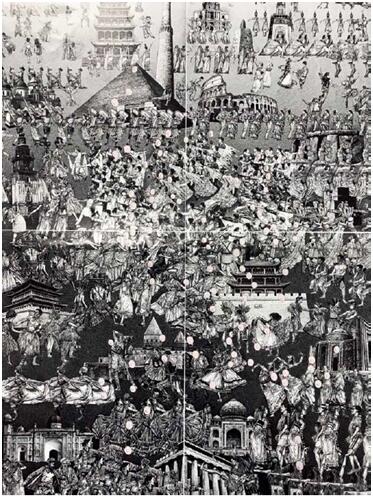 张敏杰(中国)Zhang Minjie(China)
广场上的舞蹈 No.3 / 2015 / 石版 / 145厘米×100厘米
Dance on the Square No.3 / 2015 / lithography / 145cm×100cm
2017第七届北京双年展作品
Works of the 7th Beijing Biennale, 2017