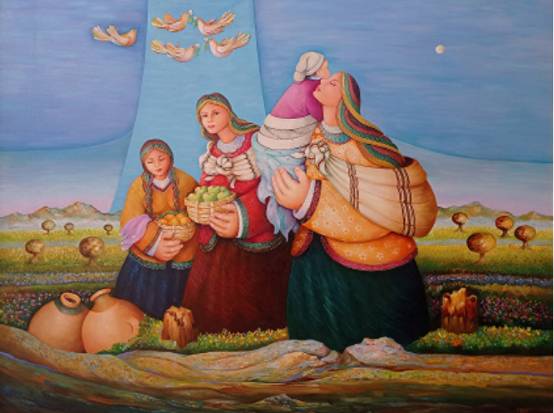 [秘鲁] 奥古斯托•加西亚•佩纳尔瓦《新的生命,为和平而团结》
2020 / 布面油画 / 145厘米× 170厘米
A New Life, United for Peace
[Peru] Augusto Garcia Penalva
2020 / oil on canvas / 145cm × 170cm
国际妇女节全称"联合国妇女权益和国际和平日",在中国又称"国际劳动妇女节""三八节"和"三八妇女节"。是在每年的3月8日为庆祝妇女在经济、政治和社会等领域做出的重要贡献和取得的巨大成就而设立的节日。
International Women's Day (IWD), also known as the United Nations Women's Rights and International Peace Day, is a global holiday celebrated annually on March 8 to commemorate economic, political and social achievements of women.
第九届北京国际美术双年展参展作品当中,有很多展现女性美好形象、凸显女性力量的优秀作品。此外本届北京双年展特展之一,"细嗅蔷薇:生命的艺术—国际女艺术家当代艺术特展",展出具有影响力的当代国际女性艺术家创作的代表性作品,探讨不同社会背景和文化背景中女性主体身份和艺术创作之间所形构的内在关系,在一个共同的交流平台上进行自由的对话,同时进一步凸显出全球视野下的中国女性艺术家取得的成就和贡献。让我们通过欣赏本届北京双年展中外女性题材作品,向所有努力工作、生活,致力于令世界变得更加美好的女性朋友们致以诚挚敬意!
The 9th Beijing Biennale has seen many excellent artworks demonstrating the good image and power of females. The Art of Life-- Contemporary Art by International Female Artists, one of the special exhibitions of this Biennale, gathers iconic pieces by influential contemporary female artists worldwide and explores the different questions and solutions raised by female artists from different cultural backgrounds. The exhibition engages the artists in a dialogue, and highlights the achievements and contributions made by Chinese female artists under the global context as well. Let us appreciate Chinese and international female-related artworks of this Biennale to pay tribute to females who work hard to live a better life and make the world a better place.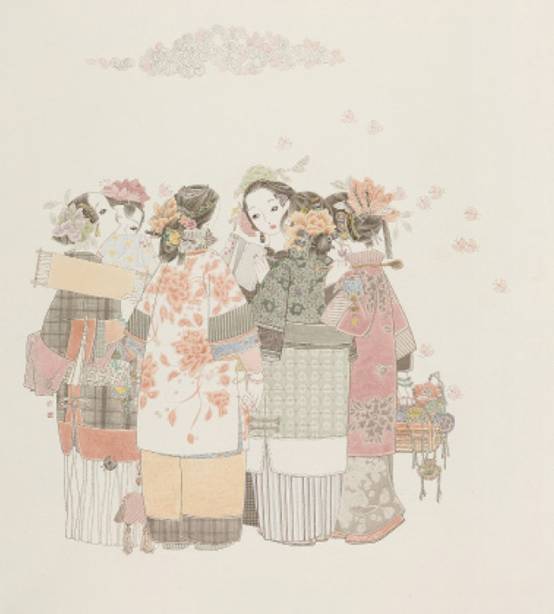 [中国] 何风丽、张国营《心事儿》
2019 / 国画 / 208厘米 × 186厘米
Girls in Manchu Dresses
[China] He Fengli, Zhang Guoying
2019 / traditional Chinese painting / 208cm × 186cm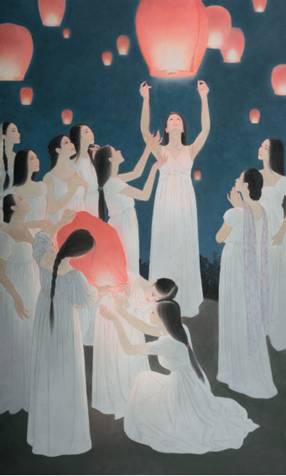 [中国] 何梦琼《祈愿》
2015 / 国画 / 260厘米 × 160厘米
Best Wishes
[China] He Mengqiong
2015 / traditional Chinese painting / 260cm × 160cm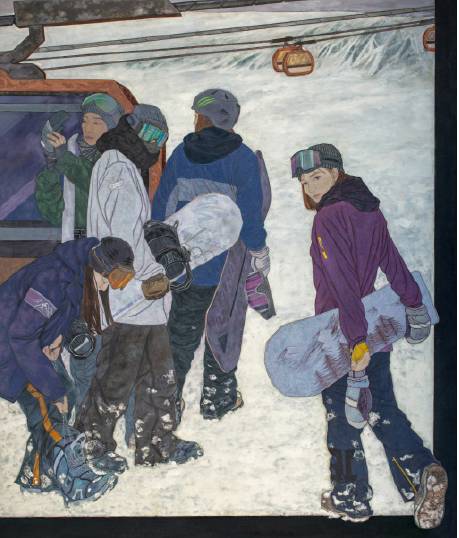 [中国] 王希宁《雪季有你》
2020 / 国画 / 240厘米 × 200厘米
Snow Season
[China] Wang Xi'ning
2020 / traditional Chinese painting / 240cm × 200cm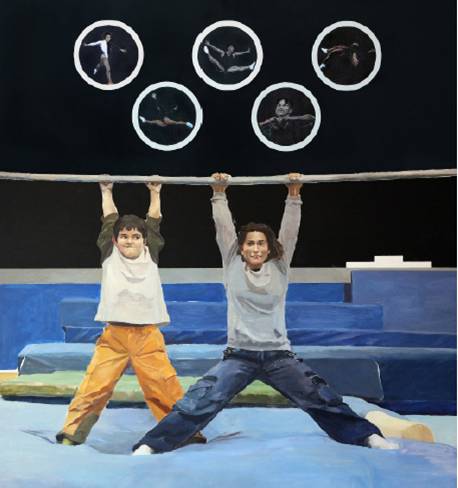 [中国] 宣德所《荣誉之外—绽放的丘索维金娜》
2021 / 布面油画 / 205厘米 × 200厘米
Beyond the Honor—Chusovitina in Bloom
[China] Xuan Desuo
2021 / oil on canvas / 205cm × 200cm
[中国] 许广专《抗疫天使》
2021 / 布面油画 / 180厘米 × 180厘米
Anti-epidemic Angels
[China] Xu Guangzhuan
2021 / oil on canvas / 180cm × 180cm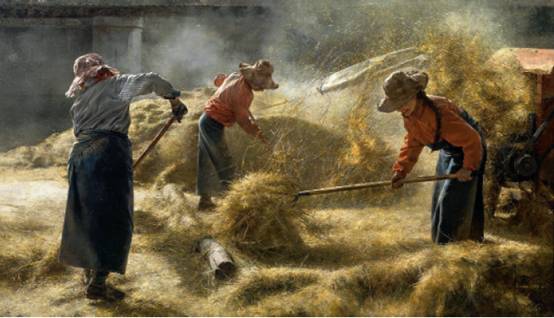 [中国] 周丽萱《丰收喜悦》
2019 / 布面油画 / 120厘米 × 185厘米
Joy of Harvest
[China] Zhou Lixuan
2019 / oil on canvas / 120cm × 185cm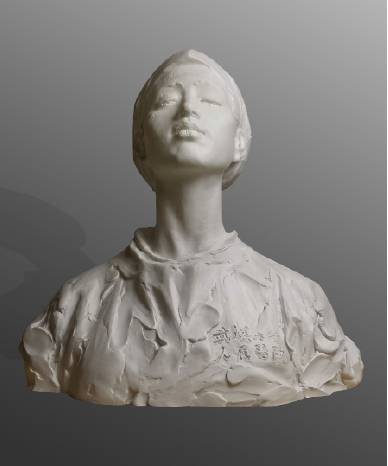 [中国] 李迅《天使的唇印》
2020 / 雕塑 / 60厘米 × 58厘米 × 42厘米
Angel's Lip Print
[China] Li Xun
2020 / sculpture / 60cm × 58cm × 42cm
[中国] 刘元捷《北京欢迎您》
2021 / 雕塑 / 175厘米 × 175厘米 × 110厘米
Welcome to Beijing
[China] Liu Yuanjie
2021 / sculpture / 175cm × 175cm × 110cm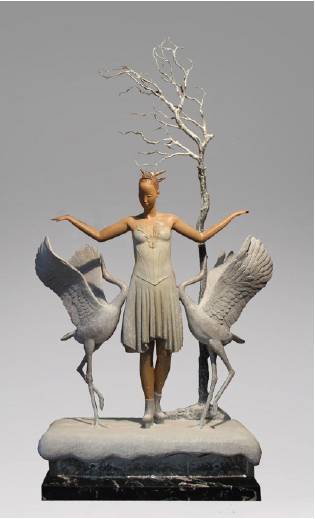 [中国] 王天进《共生—冰舞呈祥》
2021 / 雕塑 / 120厘米 × 60厘米 × 40厘米
Common Destiny – Skating Girl
[China] Wang Tianjin
2021 / sculpture / 120cm × 60cm × 40cm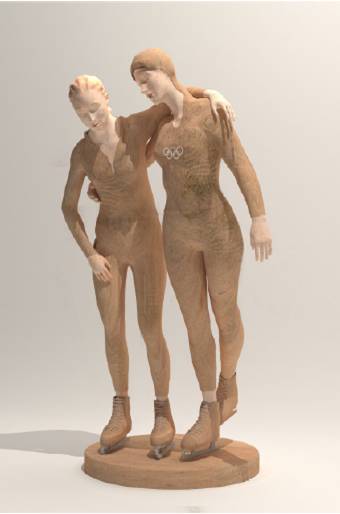 [中国] 徐健《梦想与爱》
2021 / 雕塑 / 73厘米 × 45厘米 × 54厘米
Dream & Love
[China] Xu Jian
2021 / sculpture / 73cm × 45cm × 54cm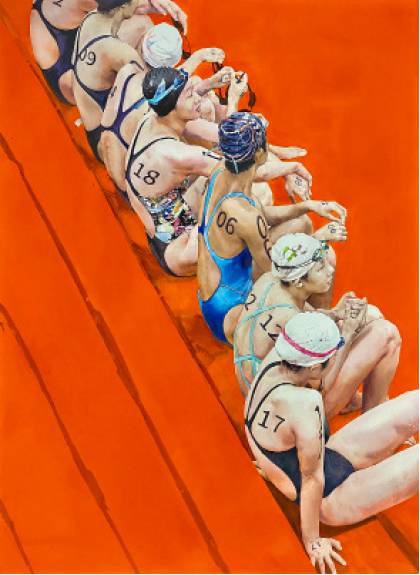 [中国] 王少奇《勇往直前》
2021 / 水彩 / 150厘米 × 120厘米
Racing Ahead
[China] Wang Shaoqi
2021 / watercolor / 150cm × 120cm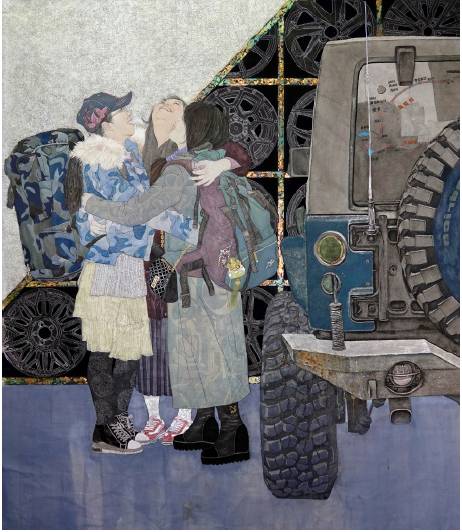 [中国] 李响《豪情万里》
2021 / 国画 / 220厘米 × 200厘米
Setting off for a Better Future
[China] Li Xiang
2021 / traditional Chinese painting / 220cm × 200cm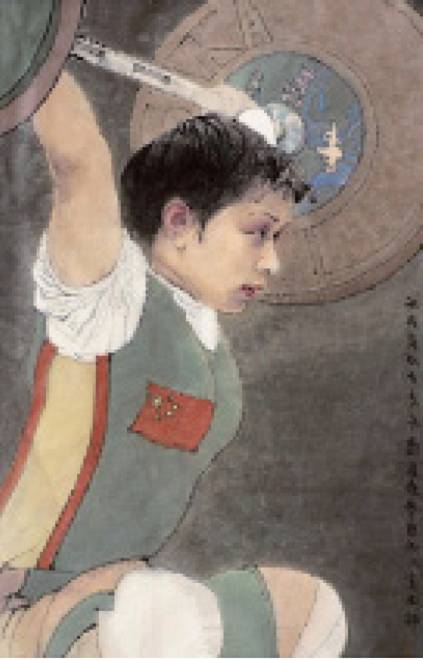 [中国] 李爱国《辉煌——奥运之星杨霞》
2006 / 纸本设色 / 74厘米× 47厘米
Glory—Olympic Star Yang Xia
[China] Li Aiguo
2006 / color on paper / 74cm× 47cm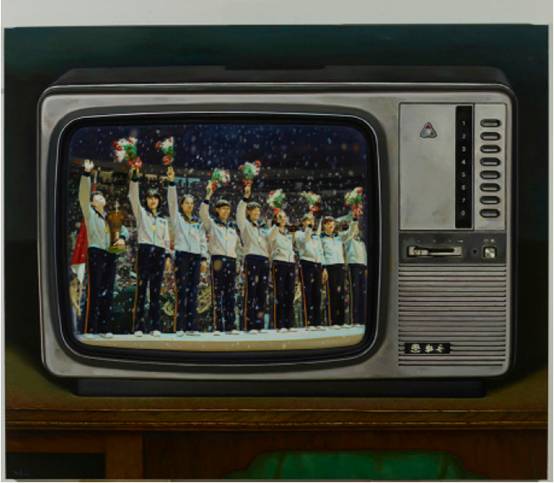 [中国] 陈曦《中国记忆之女排在世界舞台1》
2007 / 布面油画 / 150厘米 × 180厘米
Chinese Memories: Chinese Women's Volleyball Team on the World Stage No.1
[China] Chen Xi
2007 / oil on canvas / 150cm × 180cm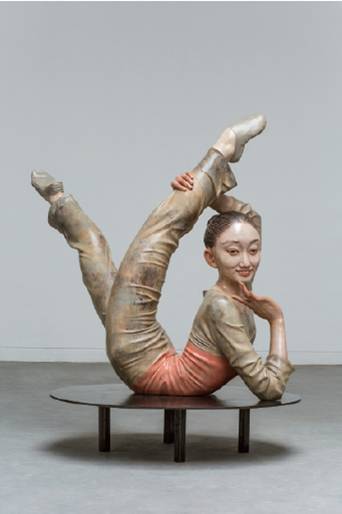 [中国] 向京《凡人——软体》
2011 / 玻璃钢着色 / 103厘米 × 135厘米 × 65厘米
Mortals—Flexible Body
[China] Xiang Jing
2011 / painted fiberglass / 103cm × 135cm × 65cm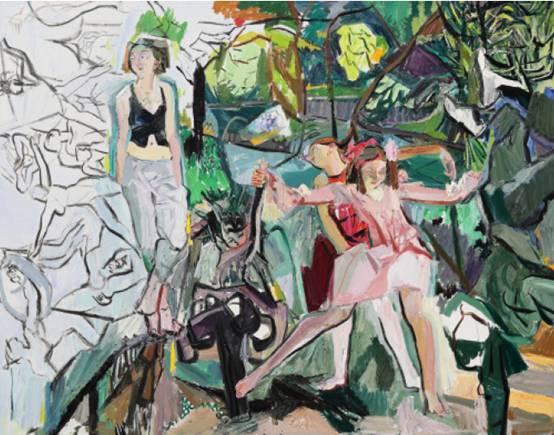 [中国] 闫平《任时光飞驰》
2020 / 布面油画 / 180厘米 × 230厘米
Time Flies
[China] Yan Ping
2020 / oil on canvas / 180cm × 230cm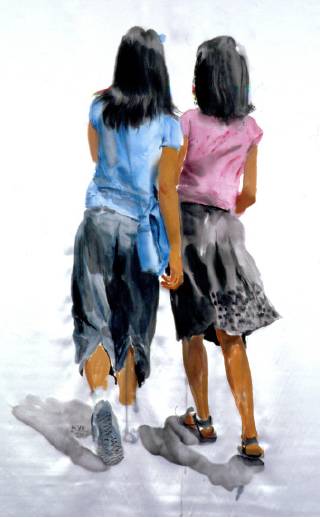 [中国] 喻红《女孩背影》
2006 / 丝绸、纺织颜料 / 400厘米 × 110厘米
Girls Viewed from Behind
[China] Yu Hong
2006 / fabric pigment on silk / 400cm × 110cm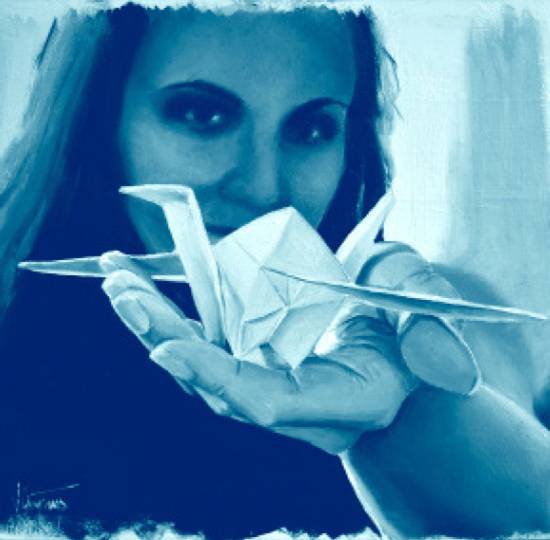 [克罗地亚] 文卡•加斯帕鲁斯《千纸鹤》
2020 / 布面油画 / 30厘米 × 30厘米
1,000 Paper Cranes
[Croatia] Vinka Gasparus
2020 / oil on canvas / 30cm × 30cm
[厄瓜多尔] 乔治•佩鲁卡其《希望之光之四》
2020 / 布面丙烯 / 130厘米 × 120厘米
Light of Hope No. 4
[Ecuador] Jorge Perugachy
2020 / acrylic on canvas / 130cm × 120cm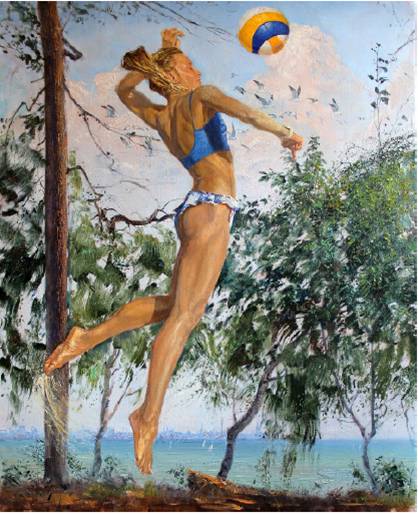 [爱沙尼亚] 阿列克谢•沙图诺夫《沙滩排球,塔林 2021》
2021 / 布面油画 / 120厘米 × 100厘米
Beach Volleyball, Tallinn 2021
[Estonia] Aleksei Shatunov
2021 / oil on canvas / 120cm × 100cm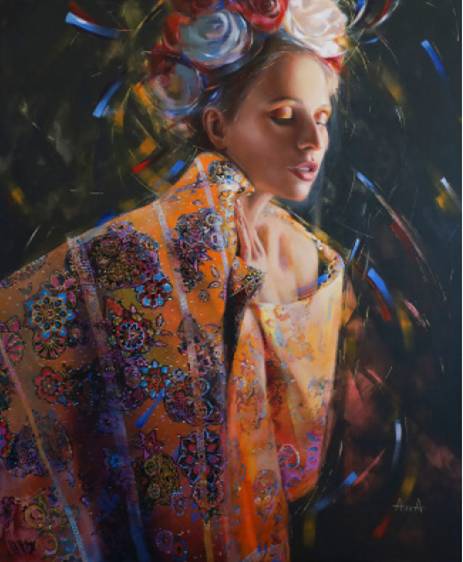 [法国] 波兹德尼亚科娃•斯维特拉娜《光之二》
2021 / 布面油画、水墨、丙烯 / 130厘米 × 110厘米
Light II
[France] Pozdniakova Svetlana
2021 / oil, ink, acrylic on canvas / 130cm × 110cm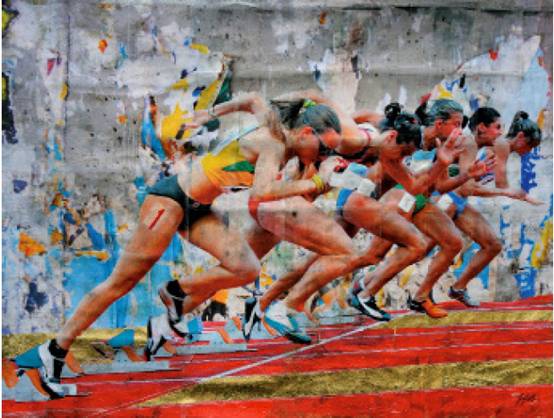 [意大利] 朱利亚诺•格里蒂尼《重启》
2021 / 布面油画 / 140厘米 × 200厘米
The Restart
[Italy] Giuliano Grittini
2021 / oil on canvas / 140cm × 200cm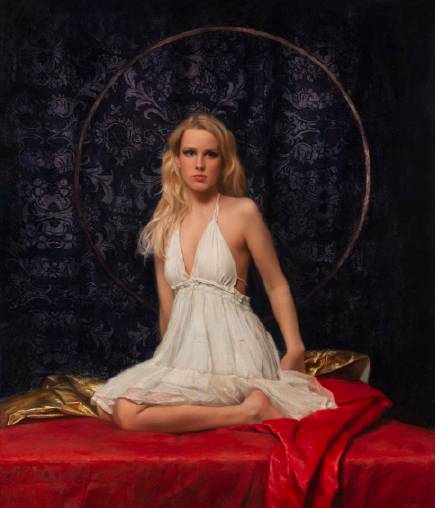 [拉脱维亚] 卡尔维斯•扎里提斯《欧米茄》
2021 / 布面油画 / 140厘米 × 120厘米
Omega
[Latvia] Kalvis Zālītis
2021 / oil on canvas / 140cm × 120cm
[俄罗斯] 奥尔加·施维德斯卡娅 《晨泳者》
2020 / 布面油画 / 90厘米×160厘米
Morning Bathers
[Russia] Olga Shvederskaia
2020 / oil on canvas / 90cm × 160cm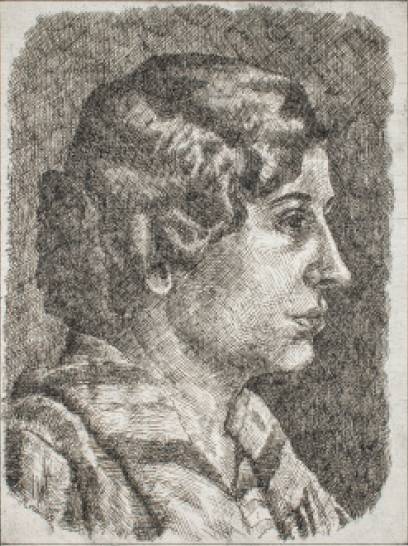 [意大利 ]乔治·莫兰迪《女性右侧颜像》
1927 / 铜版画 / 21.5厘米× 17.2厘米
[Italy]Giorgio Morandi
Right Side Face Painting of a Lady
1927 / etching on copper / 21.5cm × 17.2cm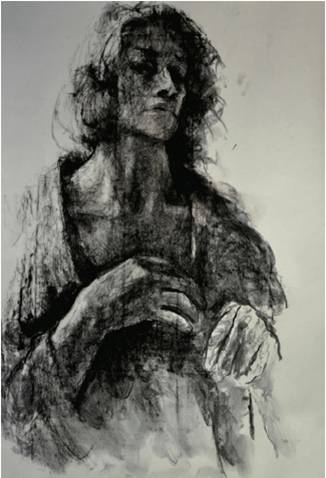 [加拿大] 热西丹•艾力《自画像》
2013 / 素描 / 55厘米×79厘米
Self-Portrait
[Canada] Recidan Eli
2013 / sketch / 55cm × 79cm
本项目由北京文化艺术基金支持
Project Funded by Beijing Culture and Arts Fund